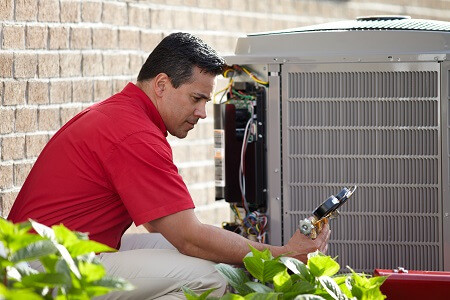 Most people are busy, and having one more thing to remember can seem like a nuisance. But one thing you definitely should keep in mind as a homeowner is annual air conditioning maintenance. Spring is here, and warmer weather is right around the corner – so you'll want to be sure your AC system is up to snuff and ready to keep you and your family cool and comfortable all summer long.
Of course, it's easy enough for us here at Boelcke to tell you that you should get annual maintenance for your air conditioning system. But without explaining why it's so important, you might not really be too concerned about it. However, there are many good reasons for getting your AC system the preventive maintenance it needs, which we'll explain further. Keep reading to learn why calling to schedule your air conditioning maintenance today can save you a lot of stress and hassles down the road.
When you choose AC maintenance for your home, you're choosing peace of mind.
Anyone who has ever experienced an air conditioning breakdown on the hottest day of the year will tell you, it's no picnic. Depending on the severity of the situation, you'll likely have some downtime in the instance of a major repair or worse yet, the need to replace your entire system. By getting annual maintenance, however, you'll also get the peace of mind that comes with knowing your AC has been inspected, cleaned, and tuned up. Additionally:
Your system will run better. A well-maintained system is more effective and efficient. Dirt and debris are cleaned out of your system, and that allows it to do its job much more easily. As a result, it doesn't have to work as hard to keep your home as cool as a cucumber – and that can help you save on energy bills.
There will be a record of your system on file with us. Why is this important? First of all, it can help keep your system warranty intact. Most manufacturers require that equipment receives regular maintenance in order to maintain the warranty, and failure to do so can void it. Secondly, by keeping a record of maintenance and any small repairs, should your system stop working properly, our technicians will have an idea of any past problems, helping them troubleshoot more quickly.
The air in your home will be fresher and cleaner. Your air conditioning system collects all sorts of particulates, like dirt, dust, and pollen. Not to mention, the evaporator coils in your home are a perfect breeding ground for mold and mildew. As you can imagine, a dirty system can cause all of these undesirable elements to be circulated around your home. By getting annual maintenance, you can rest assured that coils and filters will be cleaned – and your home's air will be fresher and healthier.
Getting the annual maintenance you need is easy, too – just call Boelcke!
At Boelcke, we're pleased to provide annual maintenance agreements that help keep your system running smoothly and help you and your family stay comfortable. Simply give us a call at (269) 429-9261, and we will be more than happy to set you up with a maintenance program that works for you, and get your AC maintenance scheduled!